REQUEST YOUR TAXI AT ANY TIME
Taxis in Calpe
We are a maximum quality taxi service; we have at our disposal vehicles equipped with all that you may need, contact us and receive a guaranteed taxi service. We think of your comfort and tranquillity.
PROFESSIONAL
At Taxi Calpe our objective is to give a complete service, therefore, we can count upon a highly qualified staff that will be in charge of resolving all your needs, we also have a grand variety of vehicles which will cover those needs
We have vehicles equipped
We have vehicles equipped to transport passengers with incapacities or people carriers, with back entrances or even roof racks. We adapt to your needs. We are your best option.
Services
We can also be in charge of retrieving and delivering documentation, packages, etc. Also, we do urban passages, interprovincial, and special passages, within others.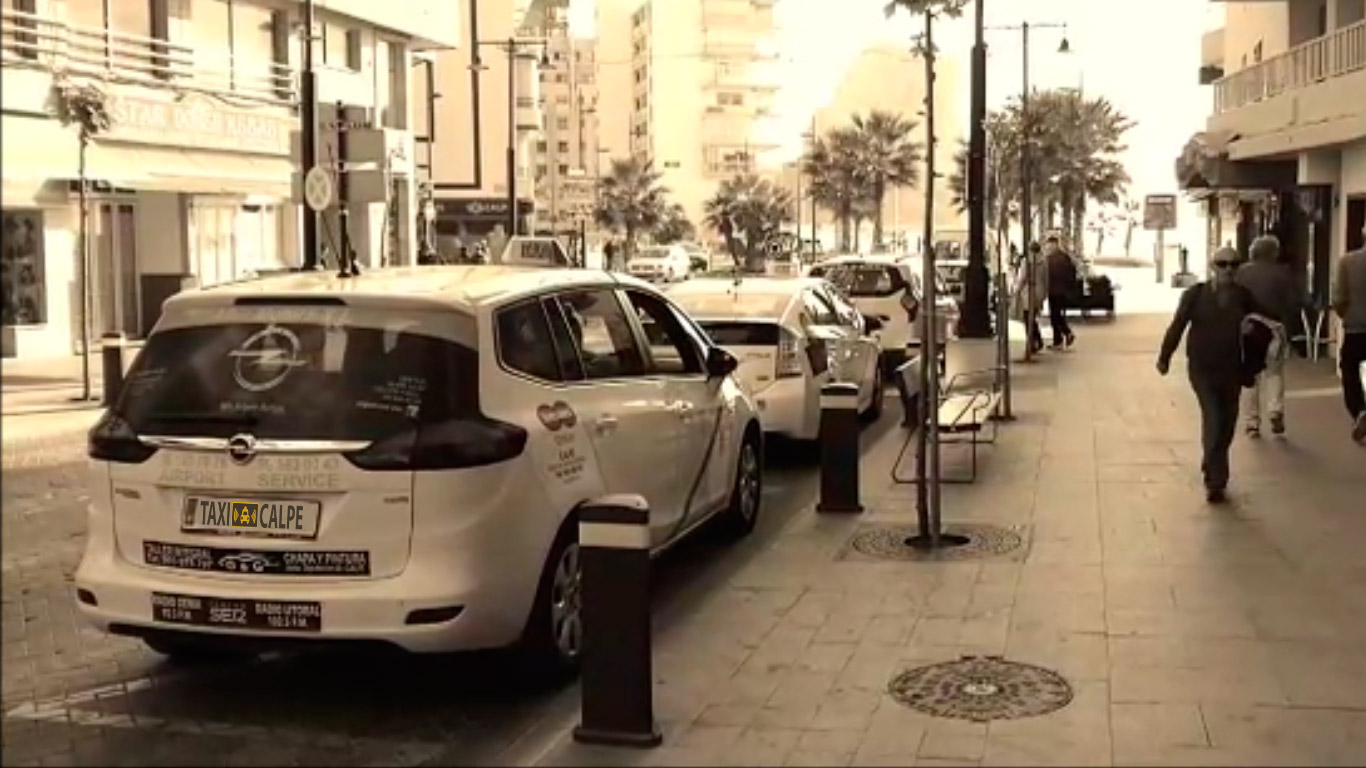 Services Taxi Calpe
So as to be able to satisfy all our clients' needs, we have a large array of vehicles. We understand that it is not the same to provide said service for a young person than that for an older person, or to carry out a passage within the Town or an Interprovincial passage. That is why; we always have a vehicle that adapts to the clients necessities. We have vehicles equipped to transport disabled persons and people carriers, tall and short vehicles according to your needs, with back door (tail gate) or even adapted vehicles, large and luxurious vehicles of makes such as Mercedes, Peugeot, Seat, Toyota, Citröen, amongst others. Our services include:
Pick up for the Royal Yacht Club of Calpe Port, Hotels, Airports, AVE train station in Alicante, normal train station, restaurants, discotheques,etc.
Pick-up and delivery of documentation, packages, pharmaceuticals, flowers, animals, photographs, etc.
International long distance Taxi service.
Urban services always made via the shortest route.
Interprovincial services made in maximum comfort and security.
Special services for events such as weddings, excursions and stag / hen parties. Transportation to hospitals, airports, stations, ports. Etc.
Employee and motor insurance.
Services to Companies, adapting to any circumstance and mechanism of invoicing.
Programmed Taxi service as such a time and date is established.
Regular services. You can establish how often you need a taxi, saving time and money on phone calls.
Touristic services, to visit points of interest on routes which adjust to your preferences.
If you wish you can make taxi reservations to the airport with special services 24 hours a day, 365 days. Taxi Calpe featured
Special service for deaf-mutes through SMS and Braille card for the blind. Request it on the phone 965 837 878 or at taxicalpe@gmail.com.
Taxi Calpe
Calle Gabriel Miró, 34
CALP (Alicante) 03710

Paradas
Parada Real:
Gabriel Miró N.º 34
N38038.536' - E0003.019'